Georgia suitcase gate illegal scanning coincides with huge Biden vote spike, Jenna Ellis Tweet, Almost 200k jump Nov 4 just after 1:00 AM
"We've Identified 450,000 Ballots that Miraculously ONLY have a Vote for Joe Biden"…Attorney Sidney Powell
"Trump's not gonna win. I made f*cking sure of that!"...Eric Coomer, executive with Dominion Voting Systems
"I noticed that almost all of the ballots I reviewed were for Biden.
Many batches went 100% for Biden. I also observed that the
watermark on at least 3 ballots were solid gray instead of
transparent, leading me to believe the ballot was counterfeit."…Sidney Powell Georgia lawsuit
President Trump attorney Jenna Ellis tweeted the following:

Look at this picture from the Georgia video… HUGE SPIKE for Biden during the same time the suitcases of ballots started to be scanned. FRAUD.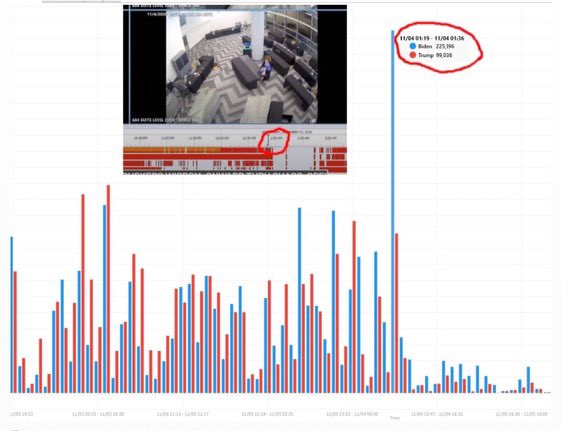 The chart above shows a jump in Biden over Trump votes of almost 200k just after 1:00 AM November 4.
This happened during the time frame of the illegal scanning, referred to as suitcase gate when ballots were pulled from under tables and processed without witnesses.
From Citizen Wells December 4, 2020.
"President Donald Trump's legal team on Thursday presented surveillance footage to a Georgia State Legislature hearing that appears to show election ballot-counting workers kicking out poll observers late at night on Election Day before pulling out suitcases allegedly filled with ballots.
A woman who identified herself as Jackie Pick, a lawyer who is assisting with their legal case, said the team received video footage from State Farm Arena's vote-tabulation center in Fulton County, Georgia. The team said that GOP poll watchers were not allowed to watch the counting process in the poll center.
But, according to Pick, an unusual occurrence took place later in the evening at around 10 p.m. ET. A woman—described as a blonde woman with braids—told workers to stop counting and told everyone to go home.
"Everyone clears out, including the Republican observers and the press, but four people stay behind and continue counting and tabulating well into the night," Pick said. They counted unobserved until about 1 a.m.
Pick said that video footage shows Fulton County election workers waiting at their scanning areas until GOP poll watchers and reporters left the room before they started "scanning ballots," ostensibly without any observation. Pick noted that it contravenes state and county law.
"
Read more:
https://min.amac.us/georgia-state-farm-arena-footage-shows-poll-workers-staying-behind-pulling-out-suitcases-with-ballots/
From Gateway Pundit.
"WHAT'S UP, RUBY?… BREAKING: CROOKED OPERATIVE FILMED PULLING OUT SUITCASES OF BALLOTS IN GEORGIA IS IDENTIFIED
Earlier today Cristina Laila reported on the explosive video that was revealed during the Georgia ballot counting at the State Farm Arena where crooked Democrats pulled out suitcases full of ballots and began counting those ballots without election monitors in the room.
Trump's legal team showed a video from the State Farm Arena tabulation center when poll workers were told to leave at 10:25 PM.
A few "workers" stayed behind and were seen pulling suitcases full of ballots out from under tables to be tabulated!
This was the most explosive video of the entire campaign season!"
"The woman in the purple made a mistake and left her purse on her desk advertising her business.
Her name is Ruby Freeman."
https://citizenwells.com/2020/12/04/georgia-election-video-deliverance-somebodys-gonna-squeal-like-a-pig-dec-3-2020-republicans-press-kicked-out-counting-continued-from-stashed-ballots/
More here: